Helix 'kelpies' £5m contract awarded to SH Structures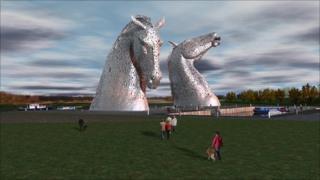 A North Yorkshire firm has won a £5m contract to build giant "kelpie" sculptures for a major visitor attraction in central Scotland.
SH Structures will build two 30m (98ft) high stainless steel-plated horse heads as part of the £41m Helix project.
Known as The Kelpies, they were created by Glasgow-based artist Andy Scott.
The construction contract was awarded following a competitive tender process managed by partnership body, the Helix Trust.
The Kelpies will act as a centrepiece for the regeneration project, which will see a 300-hectare site of under-used land transformed into a major new parkland between Falkirk and Grangemouth.
The works include a new canal extension from the Forth and Clyde Canal down to a new sea lock on the River Carron.
'Hugely influential'
Mr Scott said he was looking forward to seeing the Kelpies take shape over the coming months.
"The heavy horse played a hugely influential role in the progress of modern society," he said.
"They were the powerhouse of the early industrial revolution, the tractors of early agriculture and, of course, the first source of locomotion for barges on the very canal, which The Kelpies will inhabit.
"I see The Kelpies as a personification of that history, of the lost industries of Scotland, but I also see them as a symbol of modern Scotland - proud and majestic."
Helix Trust programme director Mike King said it was "a hugely exciting" part of the project, forming a key element of the overall regeneration programme.
He added: "As contracts are awarded and we start to see the various elements of the Helix take shape, it brings home the true magnitude of the work being undertaken and, I hope, reflects our commitment to delivering a superb visitor attraction for the benefit of Scotland."
Tourism potential
SH Structures, which is based in Sherburn-In-Elmet, has already completed a number of other projects in Scotland, including the new footbridge over the M8 motorway at Harthill.
Tim Burton, from SH Structures, said the Helix development had the potential to deliver a tremendous impact on tourism in Scotland and the UK.
"Projects of this nature and scale are rare and provide a significant opportunity to be involved in delivering a lasting legacy that will instil a great sense of pride for everyone involved," he added.
In April, Balfour Beatty Civil Engineering were awarded a £13.5m contract to undertake canal construction and design works for the Helix, which is expected to be completed next year.
The Big Lottery Fund is contributing £25m to the overall project, which is being driven by a partnership of Falkirk Council, British Waterways Scotland and Central Scotland Forest Trust through the Helix Trust.