Glasgow to host Fraunhofer laser research hub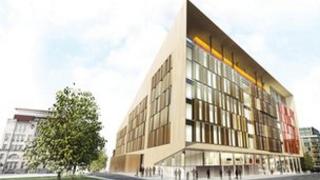 Europe's largest contract research organisation is to create a hub for laser research and technology in Glasgow.
The move by Fraunhofer-Gesellschaft is a strategic collaboration with the University of Strathclyde.
The Fraunhofer Centre for Applied Photonics will cover a variety of sectors including security, healthcare, energy and transport.
It will be the organisation's first centre in the UK.
The hub will be based in the university's Technology and Innovation Centre, which is due to open in 2014.
About 10 people will be employed there in its first year.
That number is expected to rise to 80 staff and postgraduate students after five years.
The photonics centre is being funded by Fraunhofer and the university, the Scottish government, Scottish Enterprise and the Scottish Funding Council.
It is expected to be the model for more Fraunhofer research centres around the UK.
The research organisation said it would also be establishing its UK headquarters at the university.
'Win-win situation'
Education Secretary Michael Russell said: "Scottish universities are known around the world for their excellence and Glasgow has a global reputation for advanced research and technology.
"It's great news that this success has helped to attract Fraunhofer to Scotland.
"Building on the links between education and industry is a win-win situation that will benefit our economy.
"Securing the UK's first Fraunhofer centre is a major achievement for the University of Strathclyde's Technology and Innovation Centre and I look forward to watching this exciting initiative develop," he added.
The innovation centre aims to transform the way universities, business and industry collaborate to find solutions to global challenges, create jobs and support the economy.
University of Strathclyde principal Prof Jim McDonald commented: "It is fitting that the UK's first Fraunhofer Centre is dedicated to lasers, a thriving industry Scotland has excelled in for decades.
"The plans have already been endorsed by our partners in industry and we look forward to working together to innovate, design and develop the products and services of tomorrow."
'Excellent reputation'
Fraunhofer-Gesellschaft executive board member Ulrich Buller said the university had an excellent reputation for industrial engagement and specifically for photonics research and commercialisation via its Institute of Photonics and other research groups.
"Consequently, Fraunhofer has been eager, for some time, to create a research centre in Glasgow in conjunction with Strathclyde," he added.
The UK headquarters and the Fraunhofer Centre for Applied Photonics will join a growing community of Fraunhofer centres globally.
Fraunhofer has more than 20,000 employees in more than 80 research units in Germany alone, and is establishing centres throughout Europe, Asia and North America.
Fraunhofer research has formed the basis of a wide range of technologies for industry and products in everyday use, such as the MP3 player and apps for mobile phones, including customised weather reports and music identification systems like the iPhone app, Shazam.