Scottish Building Society profits rise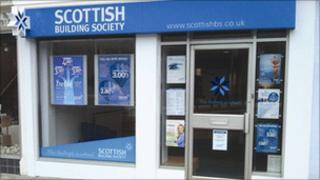 The Scottish Building Society (SBS) saw pre-tax profits rise by 10% last year, despite what it called "continuing difficult market conditions".
The society, which considers itself the world's oldest mutual, recorded profits of nearly £1m for the year to the end of January.
SBS also saw its mortgage book climb above £250m for the first time in the society's 164-year history.
Its total assets grew over the year by 2.9% to reach £342.7m.
SBS chief executive Gerry Kay said: "As a mutual, we do not seek to maximise profits. We aim to make sufficient profits to enhance our capital strength and the security offered to members.
"By converting liquidity into new mortgage lending this year, our mortgage book has broken through the £250m barrier for the first time in the society's history."
Compensation scheme
Mr Kay said SBS remained concerned over its level of contributions to the Financial Services Compensation Scheme, which is costing the mutual £132,000 in this financial year.
"We continue to lobby the government through our trade body, the Building Societies Association, concerning the disproportionate contribution that we are required to make because of the high rate of saver's funds that we hold on our balance sheet compared with other types of deposit-taker," he added.
The society started life as the Edinburgh Property Investment Company in 1848.
It now operates six branches in Inverness, Aberdeen, Edinburgh, Glasgow, Troon and Galashiels, plus a network of 70 agencies.