Licence move in Scottish metal theft fight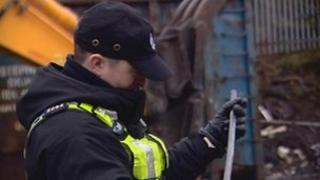 Hundreds more metal dealers are to be regulated under new measures designed to clamp down on metal thieves, the Scottish government has said.
Dealers with an annual turnover of £1m or less will need a licence under plans announced by Justice Secretary Kenny MacAskill.
The move raises the exemption limit from its current level of £100,000.
The government said the existing limit was "not fit for purpose", given the rise in metal values over recent years.
Ministers said they were also likely to remove the exemption entirely, to bring all dealers into the scheme.
The new measures follow a consultation run by the Scottish government into the licensing of dealers .
Mr MacAskill made the announcement as he joined British Transport Police and the Association of Chief Police Officers Scotland (Acpos) for the launch of their Cut Out Metal Theft campaign.
'Tough steps'
The justice secretary said the Scottish government was taking tough steps to scrap metal theft.
"With the cost to the UK economy being put as high as £770m, the status quo is untenable," he said.
"The consultation responses confirm that there is an overwhelming case to ensure proper regulation, licensing and the highest possible standards of practice in the industry."
Mr MacAskill said a tenfold rise in the exemption threshold would regulate hundreds of additional dealers.
The government will now work with industry to create a "robust, workable scheme" that will ensure that all dealers are licensed.
"This would reduce the outlets for stolen metal and the incentive to steal," he said.
"Licensing could also help ensure that better records are kept, CCTV cameras are installed and checks on customer identities are conducted."
Chief Supt Ellie Bird, Scotland area commander for the British Transport Police, said she welcomed the new measures.
"These will go a long way towards helping police forces clamp down on metal theft," she said.
"The public should be assured that the police and our partner agencies are working closely to clamp down on these thieves and the unscrupulous metal dealers who continue to trade in stolen metal."
In March, a BBC Scotland investigation found metal theft was costing Scottish taxpayers hundreds of thousands of pounds a year.
A survey of all 32 Scottish councils showed the total cost of repairing damage caused by metal thieves across the country had reached some £600,000.