Scottish job prospects 'bleaker'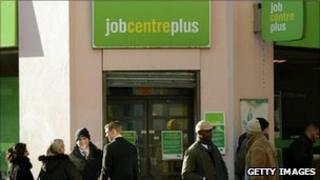 Employers in Scotland are growing increasingly pessimistic about job prospects, according to a survey by the recruitment company, Manpower.
Whereas in the UK as a whole firms recorded a positive outlook on jobs - in Scotland sentiment slipped into negative territory with a score of -6%.
Manpower suggested Scottish employment was entering "bleaker times".
The research did highlight vacancies in call centres and finance, however.
But it said employers were becoming more "choosy" and "looking for proven track records in potential employees".
The survey asked firms of their hiring intentions for Q3 - from July to September this year.
Hugh Piper, Manpower's operations director, said: "Scottish employer sentiment appears to have turned for the worst as we approach the third quarter, reversing the steadier picture we've been seeing during the first half of the year."
"The best prepared candidates are those who demonstrate their desire to upskill in order to match employers' needs. They are the ones who will win when trying secure new positions," he added.
The results from other areas indicate a north/south divide. The Midlands has the strongest level of confidence when it came to hiring staff, registering a score of 12%.
The south and southwest both recorded scores of 5% but further north, positive results petered out and Wales also registered a negative score.
Manpower said there was also a split between large and small employers with big businesses much more optimistic than smaller ones.