Online guarantee scheme for precious metal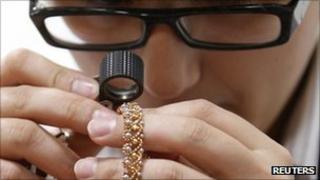 The world's first consumer online assurance scheme for jewellery has been launched by the Edinburgh Assay Office.
The Assay Office has been testing and hallmarking precious metal for 550 years.
Now jewellery retailers can apply for a "digital hallmark" for their websites to reassure customers that the jewellery they are buying online is genuine.
Some retailers have already signed up to the Assay Assured scheme.
They include Links of London, Ortak, Monica Vinader and Clogau Gold.
The new scheme is a response to the growing problem of fake jewellery being sold over the internet.
The new scheme aims to offer the shopper protection against the risk of buying unhallmarked as well as counterfeit branded jewellery.
Edinburgh's Assay Master Scott Walter explained: "It is not possible to detect by sight or by touch the precious metal content of an item.
"UK Hallmarks have provided consumer protection for hundreds of years by guaranteeing the precious metal content in a piece of jewellery.
"Today online shoppers have no way of checking whether a piece of jewellery is hallmarked or not. Assay Assured is a digital solution to an ancient problem and we believe it will provide the protection consumers need online."
It is the law that all gold, silver, platinum and palladium jewellery sold in the UK must be hallmarked by one of four Assay Offices either in Edinburgh, London, Sheffield or Birmingham.