Scottish retail sales remain weak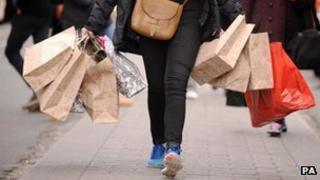 Retail sales in Scotland remained weak in May, according to the Scottish Retail Consortium (SRC).
Total sales for the month were up 0.1%, but like-for-like sales - which strips out the effects of new store openings - were 1.2% lower than a year ago.
The warm weather at the end of the month boosted spending on food and summer clothes.
In contrast, UK sales rose on both measures with the total value of goods sold up by 3.4%.
This was the fourteenth month in a row that UK sales growth exceeded that in Scotland.
Ian Shearer, Scottish Retail Consortium director, said: "A welcome spell of warmth at the end of May helped lift these figures but the burst of summer didn't bring a boost on the scale enjoyed elsewhere.
"The underlying picture remains weak, showing sales falling in real terms for the sector overall, and this is particularly worrying given that they are being compared against poor figures for May in 2011."
He added: "Consumer caution persisted, household budgets are still under severe strain and most shoppers are committed to buying only what they consider to be essentials."
David McCorquodale, Head of retail in Scotland for KPMG, said: "A week of sunshine and Scotland's muted celebration of the Jubilee will not overcome the underlying issues facing the industry, which remains under pressure from a combination of low consumer confidence and squeezed incomes.
"We have seen yet more casualties on the high street in May and more are forecast.
"The seismic structural changes in the industry would be easier to manage in a better economic environment but retailers do not have that luxury and are therefore hanging on and managing cash and margins as best they can."