New jobs as packaging firm grows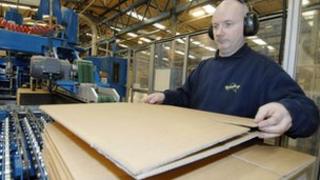 A South Lanarkshire-based packaging firm is to invest £2.2m in expanding its manufacturing facility after securing Scottish Enterprise funding.
The Boxshop Ltd will also invest in new equipment with the help of a £300,000 Regional Selective Assistance grant.
The expansion will lead to 18 new jobs and secure a further 18 posts.
The Boxshop Ltd, which is based in East Kilbride, said the new funding would help it "target new areas of business growth".
The announcement came as Scottish Enterprise reported Scotland's manufacturing sector created £20m of productivity savings in the last year.
The agency said it helped 165 Scottish manufacturers, including The Boxshop Ltd, undertake 207 business efficiency projects over the past 12 months.
Efficiency savings
Since 2005, The Boxshop Ltd has generated £1.4m in efficiency savings and increased its turnover from £5.7m to £11.3m with the help of the Scottish Manufacturing Advisory Service (SMAS).
The company now employs about 80 staff.
The Boxshop Ltd managing director, Douglas Lamb, said: "We pride ourselves in being the largest independent manufacturer of corrugated boxes in Scotland but to keep growing, we need to keep ahead of our competition.
"To do that, we need to invest our time and money in making sure that we have the right products and processes and that they are as efficient and effective as possible."
Scottish Enterprise director of SMAS, Nick Shields, said: "We're seeing many Scottish manufacturers bucking the trends and experiencing strong growth, and The Boxshop Ltd is a great example of this. It proves that innovation and investment really are the key to achieving success.
"We believe we can help companies generate more savings and create new jobs, develop new products and enter new markets, at home and overseas."