Wolfson Microelectronics shares rise on Samsung deal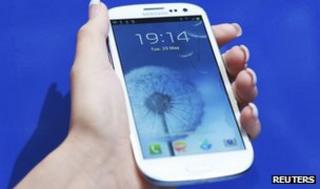 Shares in chip maker Wolfson Microelectronics rose sharply after the company said it had secured a deal to supply audio parts for Samsung's latest flagship smartphone.
Wolfson announced its ultra-low power HD audio hub had been chosen for the South Korean firm's Galaxy S3 device.
Wolfson technology has already featured in several Samsung products, including the Samsung Wave and Galaxy S.
Shares in the Edinburgh firm were up nearly 6.5% by 13:00 on Tuesday.
Wolfson's WM1811 audio hub is designed to improve voice call quality and audio playback for music and video, while minimising power consumption.
Samsung, which launched the Galaxy S3 last month, has predicted the device will attract global sales of more than 10 million in July.
'Continued success'
Chief executive Mike Hickey said: "Our continued success with Samsung, particularly within its range of smartphones and tablets, is testament to the unrivalled quality of our HD audio hubs, and the unique features in our products that allow manufacturers to create differentiated audio experiences."
Last month, Wolfson reported a widening of losses but said its fortunes would pick up.
It reported a 26% drop in sales in the first three months of this year to £18.7m.
Wolfson, which makes chips for smartphones and tablet computers, made a pre-tax loss of £5.2m compared with a loss of £2.2m the previous year.
The firm said the results had been expected and it anticipated a return to profits later this year.