Belhaven brews increase in sales as Greene King reports record profits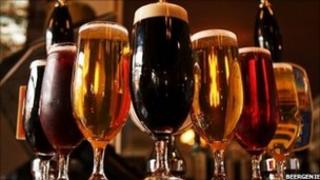 The parent company of brewer Belhaven has announced a record set of profits, with sales volumes of the Scottish beer growing by 3.7%.
Greene King made a £152m pre-tax profit for the year to 29 April, a rise of 8.6%.
The group owns more than 2,000 pubs and restaurants across the UK, with its leading brands including Loch Fyne Restaurants and Hungry Horse.
The company said it continued to build customer loyalty.
Food sales rose 17% during the year to the end of April, and it said more recent performance had been boosted by the Diamond Jubilee and Euro 2012 football championships.
The group also said it was supportive of the UK government's plans for minimum unit price for alcohol.
Chief executive Rooney Anand said: "Set at the right level, we believe this can be an effective measure to combat the irresponsible retailing and consumption of alcohol."
However, he added: "We have concerns that the proposed 40p per unit will not have enough of a positive societal impact.
"Therefore we recommend the UK government looks to harmonise minimum unit pricing with Scotland at 50p per unit."
Belhaven, which has been brewing beer in Dunbar for more than 300 years, said Belhaven Best had maintained its position as the leading ale brand in Scotland.