Cairn Energy sells off £230m in Indian shares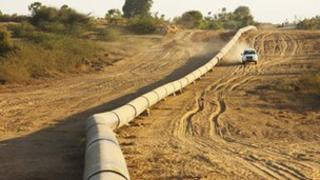 Oil explorer Cairn Energy has announced the sale of $360m (£230m) worth of shares in Cairn India.
The company said the move represented a 3.5% shareholding in the Indian business.
Late last year the Edinburgh firm sold off a 40% stake in Cairn India to mining firm Vedanta, leaving it with 21.8% of the company.
Cairn said cash from the latest sale would in part be used to provide "greater operational flexibility".
Cairn will retain an 18.3% stake in the Indian operation.
Shareholders authorised the board to dispose of all or part of Cairn's residual interest in Cairn India at a general meeting held last month.
The Indian business is currently participating in a joint venture with Oil and Natural Gas Corporation (ONGC) of India, involving the Mangala, Bhagyam and Aishwariya fields. Together they have estimated gross recoverable oil reserves and resources of about one billion barrels.
In addition to operations in India, Cairn operates 11 blocks off Greenland through its subsidiary Capricorn, but has so far failed to find any commercially viable deposits of oil.
The company also owns Norway-based Agora Oil and Gas and is in the early stages of carrying out frontier exploration in Spain.
Cairns expects to participate in an offshore Lebanon bid round later this year, and is involved with consortium partners on a bid round off Cyprus.