Joint bid to meet retailers on mackerel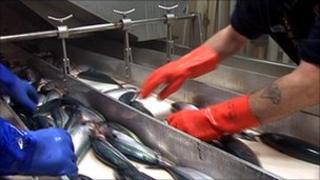 Scottish fishing and political leaders are to join forces to try to persuade major supermarkets to start buying Scottish mackerel.
Sainsbury's, Marks and Spencer and the Co-op announced they would stop buying the fish after its environmental certification was suspended.
That followed a decision by Iceland and the Faroes to increase their catches.
The Scottish Pelagic Fishermen's Association and the fisheries secretary hope to meet retailers in late summer.
The three supermarket chains said they would not buy Scottish mackerel after the Marine Stewardship Council (MSC) suspended certification of the fish amid concerns over sustainability.
It followed moves by both Iceland and the Faroe Islands to introduce large quota increases, which has since led to European sanctions against the two nations, including restrictions of mackerel landings in EU ports.
Fisheries Secretary Richard Lochhead said: "The Scottish government continues to work with the UK and the EU to seek a resolution as soon as possible to the mackerel dispute.
"Other countries are fishing the stock outwith an international management plan, which has led to overfishing of the shared mackerel stock and MSC suspension.
"We are keen to ensure that the people of Scotland - and the rest of the UK - have the opportunity to buy Scottish mackerel."
He added: "Therefore I will be inviting the supermarkets to a meeting in late summer - to be hosted jointly by the Scottish government and the industry and facilitated by Seafood Scotland - to discuss this issue."
The Scottish Pelagic Fishermen's Association said it had agreed with Mr Lochhead that a meeting with the supermarkets would be useful.
Chief executive Ian Gatt said: "We both thought it would be useful as a joint initiative to provide them with as much information as they need in order to base their future procurement requirements."
Mackerel is the most valuable stock for the Scottish fleet.
Landings of the fish were worth £164m in 2011 - about a third of the Scottish total.