Hall's of Broxburn closure: Task force aims to save jobs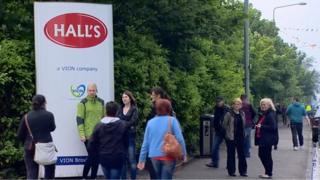 Meetings have been taking place in a bid to secure a future for the closure-threatened Hall's of Broxburn pig processing plant in West Lothian.
Dutch food company Vion said the site - which employs 1,700 people - had recorded "unsustainable losses".
The National Farmers Union in Scotland has warned that if the processing plant is lost, there could be wide implications for the pork industry.
Staff have been told that a 90-day consultation will now take place.
The Hall's plant slaughters pigs for processing into pork products, including sausages. Hall's also produce beef sausages, black pudding and haggis.
However, owners Vion said there was significant over-capacity in the UK meat industry.
Complex site
After an emergency task force meeting on Thursday night, Finance Secretary John Swinney told BBC Radio's Good Morning Scotland programme there were challenges ahead.
However, he said keeping the plant open was the first priority.
He said: "These products are of high quality. They have a strong presence, not just in Scotland but right across the United Kingdom.
"We have to turn that to the advantage of the employees of the plant to create a sustainable business venture, and that's precisely what we're working to do."
Nigel Miller, president of the NFUS, said Hall's of Broxburn handled 70% of all of Scotland's pigs, but was an old and complex site which had been running under capacity.
Mr Miller added: "I suspect some form of cutting plant is essential for the slaughtering line to be viable, but in what format and what level of manufacturing is viable is certainly unclear. Indeed, it is unclear whether the slaughter side is viable."
Vion said it had the capacity to process 20,000 pigs per week, but was only handling 8,000.
Without the slaughtering capacity at Hall's, it is likely animals would be sent to Yorkshire.
The NFUS said this did not present welfare issues, but would add costs.
However, Mr Miller said Scotland produced high quality pork products, with Hall's supplying several major supermarket contracts, some for UK-wide distribution.
"I think there's quite a lot of work to be done to ensure that hopefully processing can continue on that site, or at least we maintain capacity in Scotland to underpin in many ways what is an elite industry," he added.
Staff 'shocked'
Esther Stewart, from the Usdaw union, said staff were in shock, with many having more than one family member working at the plant.
She told BBC Scotland: "As far as I know the order books are full, everybody's out there working, it's not like we've not got any work, they're working overtime and they just can't understand how it's come to this."
Ms Stewart said workers were aware of warnings about the plant making losses but said they had made suggestions about savings and questioned waste.
"They were buying stuff in that was maybe not needed that was going out of date, things like that, and there were loads of people putting their views forward but obviously that's not worked either."
The jobs task force is due to reconvene on 30 July, and West Lothian Council is also holding meetings on the future of the site.
Peter Barr, chairman of Vion UK, said: "Every possible step has been taken to secure the future of the business, but we are currently losing £79,000 per day at the site, which is clearly unsustainable."