Edinburgh Airport reports dip in passenger traffic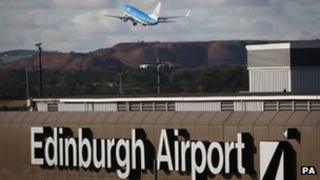 Passenger traffic fell at Edinburgh Airport last month, dragged down by a drop in domestic traveller numbers.
A total of 883,000 passengers travelled through the airport in June, a drop of 3.9% on the previous year.
The airport's new owners blamed the fall on fewer BMI flights and the end of the BMI Baby route to East Midlands.
The airport was sold in April to Global Infrastructure Partners, after the Competition Commission ruled BAA had to sell either Edinburgh or Glasgow.
British Airways took over BMI from Lufthansa earlier this year and has since grounded a number of BMI Baby routes as it prepares to close that part of the business in September after failing to find a buyer.
In a statement, Edinburgh Airport said: "The issues facing BMI in particular, with lower load factors and fewer flights operating and the cessation of the BMI Baby route to East Midlands, are at the core of the drop."
It added that the international passenger numbers for June were unchanged on last year's figures.
Edinburgh Airport chief executive Jim O'Sullivan said: "Naturally, the turbulence in the domestic airline market has affected our domestic traffic.
"However, other airlines will pick up these routes and we anticipate domestic passenger numbers to recover.
"It is pleasing to see international traffic maintain its position, despite the growing issues in the eurozone and the damaging effects of APD (air passenger duty)."