Edinburgh's hotels 'facing tough year'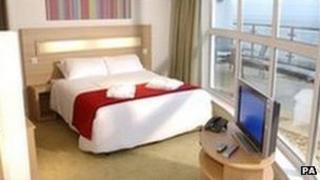 Edinburgh's hotels may struggle later this year to compensate for a poor performance in the spring, according to report by accountancy firm PKF.
Its hotel survey for May reported a fall in both occupancy rates and revenues for the third month in a row.
PKF suggested the trend might continue in the capital later in the year.
The figures for Edinburgh contrasted with those for the Scottish hotel sector as a whole, which reported a rise in occupancy and revenues in May.
The report indicated occupancy in Edinburgh fell in May by 5.4%, while revenue was down by 7.9%.
The report said travel problems caused by tramworks and other roadworks could make improvement later in the year "difficult to achieve".
Alastair Rae, from PKF, said: "The fall in the value of the euro (which is around 9% lower than this time last year) coupled with the continued economic uncertainty in the UK means that both European and British tourists are tightening their belts.
"Whether this continues remains to be seen but this is unwelcome news for the sector in Edinburgh and increases its reliance on the late summer/autumn period."
'Travel problems'
He added: "At that time the city runs flat out so a compensating improvement will be difficult to achieve, particularly as the city is beset with so many travel problems due to the trams and other roadworks."
In May, occupancy in Scotland increased by 0.6%, compared with slight falls in England and Wales.
Rooms yield in Scotland rose by 3.1%, outperforming the rest of the UK.
The hospitality sector in Aberdeen continued a strong year, with occupancy up 8.7% and revenues increasing by 20.2% in May.
Revenue for the year to date in Aberdeen is up by 16.5%, which is the largest increase of anywhere in the UK including London.
Occupancy in Glasgow increased by 5.8% and revenue was up 13.7% as the city recovered from depressed figures in 2011.
Inverness experienced an increase of 1% in occupancy and 6.4% in revenues.
Mr Rae added: "The improvement in the figures for Scotland is welcome against a backdrop of fairly static numbers for the UK as a whole.
"There is little doubt that, business travellers aside, the weather has been playing havoc with the tourism sector."