R3 report: Quarter of shops in Scotland 'could go bust'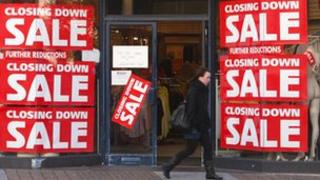 More than a quarter of shops and nearly a fifth of hotels in Scotland could go bust within the next 12 months, according to a report.
R3, the trade body for insolvency practitioners, said 274 retail businesses and 30 hotels in Scotland had a "high risk" of failure.
A further 1,238 retailers and 137 hoteliers were "vulnerable to failure" in the next year.
R3 indicated 26.15% of all retail firms and 17.99% of all hotels were at risk.
Scottish R3 spokesman Iain Fraser it was not likely to surprise anyone that the retail and hospitality sectors were vulnerable.
He said: "Retail, as has been widely reported, is suffering both from a lack of consumer confidence coupled with systemic changes to the way in which people buy products.
"The shift to online purchasing is greatly affecting retailers, many of which have not effectively moved online.
"There also remains the extremely difficult economy which, even for those businesses that are successfully adopting new technologies, poses a challenge for all businesses.
"There remains some way to go before the economy recovers and, until that time, retailers offering niche or non-essential products will face troubling times."
Hospitality sector
Mr Fraser added: "Equally the hospitality sector remains vulnerable to the economic gloom.
"Leisure travel can easily be curtailed and business travel remains subdued therefore hotels face the difficult challenge of maintaining reasonable occupancy levels without simply heavily discounting rooms.
"Given that operational costs remain high this is a tricky balancing act facing many hotels and, unfortunately, given the high capital costs involved in the hotel sector it is likely that many businesses will continue to go under until the market recovers."
A report last week by accountancy firm PKF suggested Edinburgh's hotels may struggle later this year to compensate for a poor performance in the spring.
Its hotel survey for May reported a fall in both occupancy rates and revenues for the third month in a row.
However, the figures for Edinburgh contrasted with those for the Scottish hotel sector as a whole, which reported a rise in occupancy and revenues in May.