Scottish unemployment rate falls again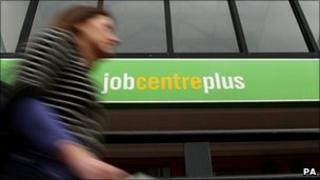 Unemployment in Scotland has fallen for the fourth time in a row.
The number of jobless fell by 4,000 to 215,000 between March and May, according to Office for National Statistics (ONS) data.
The Scottish unemployment rate now stands at 8%, which is just below the average of 8.1% for the whole of the UK.
However, the claimant count in Scotland increased by 1,300 from May to 144,100 in June.
The number of those in employment now stands at 2,493,000.
Scottish Secretary Michael Moore said: "In view of great international economic uncertainty, it is welcome news that Scottish employment is increasing and that unemployment fell for the fourth consecutive month of reporting.
'The increase in people claiming Job Seekers Allowance is a reminder that the challenges in the economy remain huge.
"With the Work Programme in place we now have a system for tracking people on their way to long term meaningful employment.
"The unemployed are no longer concealed on training allowances or on other benefits."