Commons energy committee criticises UK renewables plan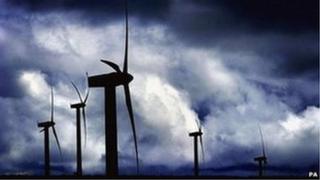 First Minister Alex Salmond claims the UK government is jeopardising green energy because of delay over setting onshore wind subsidy levels.
The Scottish government is reducing its funding levels by 10% from April 2013, in line with "robust evidence".
Westminster ministers have delayed their decision on the issue, saying the details were still being finalised.
Meanwhile, MPs have claimed the Treasury had been making the UK's clean energy drive unworkable.
The Energy and Climate Change Select Committee warned planned reform to the UK's electricity market to encourage more use of renewables created the risk of higher household bills.
Mr Salmond's concerns surround a review of the renewable obligation certificate (ROC) banding, a system which obliges electricity companies to buy a certain amount of their electricity from renewable sources.
The first minister announced his intention to amend the onshore wind ROC band to 0.9, bringing with it the 10% reduction, while criticising the Department of Energy and Climate Change (DECC) for not making a decision just yet.
He said: "The continuing uncertainty surrounding the outcome of the Renewables Obligation reviews, upon which both governments have consulted, risks undermining significantly our ability to meet our shared renewable energy aims.
"DECC's announcement this week to delay its ROC review decision has caused real anxiety to stakeholders and developers, especially in the light of recent press reports that the UK government is considering even lower onshore wind support levels than the 10% reduction proposed in the consultation.
"This wholly unnecessary uncertainty is jeopardising future investment."
However, the UK government insisted it was committed to supporting renewables and was working hard to finalise ROC subsidies as soon as possible, while ensuring they were set at the right level.
Speaking on a visit to Scotland, UK Business Secretary Vince Cable told the BBC: "We're just waiting for the final details of the package of policy to emerge relating to the renewable certificates.
"That's not very far off, but, of course, we're getting the details absolutely right.
"The building blocks are being put in place, we are rolling out this programme - it will happen."
The Treasury said its aim was to achieve government goals while protecting businesses and consumers.
But the Commons committee report claimed proposals, including a new long-term contract regime to reduce risk for renewable investors, would increase the uncertainty of borrowing for investors and put up the cost of renewable and nuclear power, with customers bearing the extra cost.