Quayle Munro to exit Edinburgh HQ over 'unviable' costs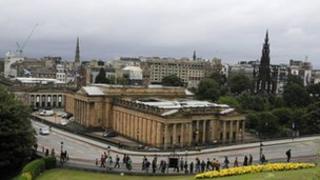 An Edinburgh-based finance firm is exiting its troubled headquarters operation in the Scottish capital to focus on London business.
The move by Quayle Munro follows a "comprehensive review", which found the costs of running the Scottish operation were not justified.
Directors decided it was "not viable in its current structure", and was judged to be no longer core to the business.
Rob Cormie, the managing director and boss of the Edinburgh HQ, has quit.
He resigned from the company and its board on Tuesday and is setting up as a consultant on renewable energy finance.
Four of the other 18 staff in the Edinburgh West Port office are leading a buy-out of the Scottish operation, in which Quayle Munro, from London, intends to hold a minority stake. The buy-out team are Andrew Watson, Stephen Bell, Moray Watt and Clare Lacey.
'Lower cost base'
The London office specialises in corporate finance advice with some investment on its own account. In Edinburgh, Mr Cormie has built up a specialism in advice for the finance of renewable energy, while much of its work has been in project finance.
However, much of the demand for those skills has gone, as government cutbacks have reduced spend on capital spend projects.
After profits over the past two years of £3m, the company announced last month that it is facing a loss this year, as the pipeline of deals has dried up.
In a statement on Thursday, chief executive Andrew Adams described the move as "a positive development".
"We will now have a sharper focus to our corporate finance business, with a lower cost base, and we are optimistic about the prospects in this area," he said. "Quayle Munro is pleased to retain a minority interest in the project advisory business."