SDI agency to expand global footprint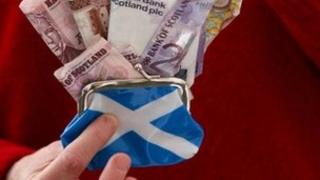 The Scottish government's trade promotion agency is to open seven new overseas offices and boost the number of staff based abroad by a quarter.
Scottish Development International (SDI) said the move would allow it to be more proactive in responding to "significant new international opportunities".
The agency will open new offices in both China and India later this year.
SDI also plans to establish a presence in Brazil, Norway and West Africa.
It will also expand its existing presence in the Middle East to tap into new market opportunities.
The expansion drive includes some traditional markets such as Canada, the US and Germany.
But the biggest expansion will be in Asia, where SDI said it was seeing "significant interest in Scotland's strengths" in growth industries such as food and drink, energy, business services, technology and life sciences.
SDI said the move would see its total overseas staff rise from 90 to 115.
'Absolutely crucial'
First Minister Alex Salmond said in tough economic times it was "absolutely crucial" that everything was done to secure new investment and jobs in Scotland.
"While economies in Europe continue to have difficulties, it is vital we work even harder to identify opportunities in emerging and growing markets such as Brazil and the Middle East, helping Scottish firms export more and attracting inward investment to Scotland," he said.
"That is why I am delighted that Scottish Development International is expanding its operations, with seven new offices to be opened in key overseas markets as part of renewed efforts to capitalise on Scotland's strengths in sectors such as energy, food and drink and life sciences.
"Proactive work such as this is vitally important, as we seek to send out a message to investors from economic powerhouses such as China and India that Scotland is very much open for business."
Scottish Enterprise chief executive Lena Wilson commented: "The global economy continues to change and it's our role to help ambitious Scottish companies take advantage of the emerging patterns of international trade.
"By having experts and offices based in key markets across the globe we can help more home-grown businesses tap into new overseas opportunities."
SDI is a joint venture between the Scottish government, Scottish Enterprise and Highlands and Islands Enterprise (HIE).
In its most recent annual report, it said it had helped more than 1,000 "high-potential" firms target new global markets last year.
SDI also assisted 190 companies on new international projects with a projected growth of £733m in sales over the next three years.
That was almost double the £405m achieved the previous year.