Weir Group profits rise but warns on oil and gas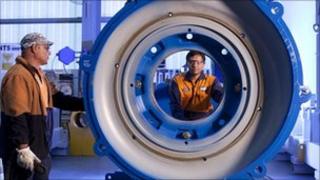 Engineering firm Weir Group has reported a 27% increase in pre-tax profits.
The company made £226m in the first half of 2012, with total revenues up 29% to £1.3bn.
The Glasgow-based group said trading had been strong in its minerals and power and industrial divisions.
However it warned of "challenging" conditions in part of its oil and gas division. Shares in the firm fell on the announcement.
Weir chief executive Keith Cochrane said: "These results bear out the strength of our well-diversified group."
He said the the group's growth strategy in its mineral division as well as its power and industrial division had offset the "challenging" conditions faced by oil and gas.
Weir had also made a number of acquisitions which Mr Cochrane said helped the company's performance.
He added that some improvement in oil and gas was expected although "the timing of any improvement remains uncertain".
Mr Cochrane said full-year profits were expected to be between £440m and £460m "with the low end of the range reflecting no improvement" in upstream oil and gas.