Big rise in number of homes sold in Scotland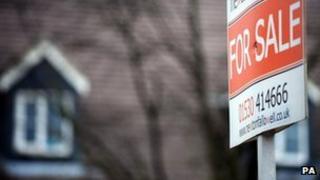 The number of homes sold in Scotland between April and June showed a sharp rise, new official figures have shown.
Registers of Scotland (RoS) said the number of transactions rose by 9% over the year and by 33% compared to the previous three months.
They said there were 18,514 home sales between April and June, which is less than half the number for the same period five years ago.
Data suggested the average price of a house fell very slightly over the year.
Rhona Mackay, commercial services manager of Registers of Scotland, said: "Sales volumes have changed dramatically in recent years, from a healthy 42,503 sales in the second financial quarter of 2007 to when the market crashed in the fourth financial quarter of 2009 with a disappointing 11,800 sales."
Edinburgh regained the title from East Renfrewshire as the most expensive place to buy.
The average cost of a home in Edinburgh stood at £220,428 compared with £199,913 in East Renfewshire.
Across Scotland the average price of a home fell by 0.2% to £153,501.
Edinburgh also recorded the highest sales volume with 2,037 transactions, an increase of 8.4% on the previous year.
East Ayrshire showed the largest percentage fall in the number of sales with a decrease of 4.9%.
East Lothian showed the largest percentage rise, with an increase of 36.6% in total sales compared with the same period in the previous year.
Wilson Hunter, of the Edinburgh Solicitors Property Centre (ESPC), said the likely explanation for the raised number of transactions was that sellers were ending their delayed entry into the market, having decided that the flat market was not going to end soon.
"I'd love to be able to say this is the market recovering, but I can't say that that is the case," he said.
"People are holding off waiting for things to get better, realising this is as good as it gets."