Dana Petroleum reports 'strong' gas well results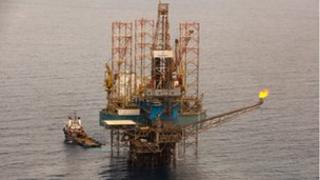 Oil and gas firm Dana Petroleum has reported "strong results" from a gas appraisal well in the southern North Sea.
The Aberdeen-based company said it was suspending the Platypus well for future production use.
Dana is to consider development and export options once data has been analysed.
Dana holds a 59% operating interest in Platypus, which was discovered by the oil and gas explorer in 2010.
The rest is held by the Parkmead Group (15%), First Oil Expro Ltd (11%) and CalEnergy Gas Ltd (15%).
Dana's UK managing director, Paul Griffin, said: "We are very happy with the conclusive results of this complex appraisal well.
"We will work with our partners to carefully analyse the data we have collected and consider development and gas export options.
"Dana already holds the second largest acreage in the North Sea and we will continue to invest in exploration opportunities with five wells planned in the North Sea and West of Shetland before the end of 2012."
Last month Dana reported soaring revenues for 2011, boosted by a big rise in production.
Production increased by 50% to almost 62,000 barrels a day, lifted by multiple drilling successes in Egypt.
Dana also reported exploration and development successes in the UK North Sea, the Netherlands and Egypt.