Stitching together a knitwear future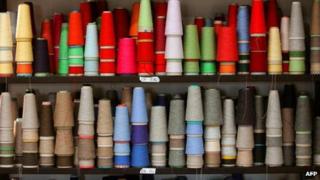 The collapse of Dawson International has been a slow-motion one, and it's not over yet.
Indeed, it's been going on for over a decade, as a company that used to be flag-carrier for the Scottish textiles industry shed assets and tried to recover from over-rapid expansion.
Dawson's been going 140 years. It used to employ 12,000 people. Now, it's around 200.
Big brands such as Pringle were being shed 13 years ago, at the same time the company was selling subsidiaries and yarn plants in Kilmarnock, Cumnock, Dalkeith and Selkirk.
So this was an important employer in smaller town Scotland, but that meant it was also in the process of managing much of the industry's decline in the face of foreign competition.
The idea was to focus on cashmere, but Ballantynes went as well. With the downturn came the sale in 2008 and 2011 of the Dorma business and Dawson Home Group bedlinen.
In 2009, Dawson sold its Todd and Duncan yarn-maker in Kinross to Zhongyin, China's biggest cashmere company.
So it has retreated to only two parts of the business; the Barrie Knitwear cashmere operation in Hawick, employing around 180 people, and a handful of people in Boston sourcing cashmere, mostly from China, for the US market.
That much appears to be a sound business. It's turning a profit.
It has high end customers for own-brand products that Dawson isn't allowed to disclose, though the word in Hawick is that they include Hermes and Chanel. Those are good customers.
Although Barrie had to scale back in 2009, these buyers are at the luxury end of the market that's been relatively downturn-proof.
And that underlines the good news about textiles - that, after far too long apparently failing to understand its market or to respond to foreign competition, it has found niches producing fashion products that customers actually want.
Woven into Hawick
It's reckoned there are now at most 1000 people in Hawick working in its remaining textile firms. That's down to only around six mills, after a couple of decades when at least 15 closed.
Johnston of Elgin, which came to the Borders town nearly three decades ago, has recently invested in, among other things, a £1m visitor centre, cafe and shop, opened this year, to help safeguard its 250 jobs on the site.
Hawick Cashmere is still a significant operator, privately owned, with about a dozen shops in high end locations.
Hawick Knitwear, with more than 200 workers, is also focussed on the cashmere end of the market, having been bought by its managers from Lyle and Scott, when that well-known textile firm decided it was no longer core.
The Knitwear firm also sells premium 'Made in Scotland' own-brand to luxury labels, including Dunhill and Nieman Marcus in the US, though it wants to expand its own brand.
Pensions bailout
So if the industry's found its niches at the luxury end of the knitwear market, why is the former flag-carrier in such trouble?
The simple answer is its pension liabilities. In shedding bits of the company, Dawson didn't shed its pension exposure, or at least not by nearly enough.
It looked manageable five years ago, when the shortfall on the pension fund was below £7m. It quickly rose, and then exploded, so that the most recent valuation - while a very volatile figure - is around £50m.
That's a big figure. Now, consider this. There are 3,200 pensioners currently looking to pay-outs from that fund, but I'm told there are only 54 active members contributing to it.
Dawson directors sought to do a deal with the Pension Protection Fund (PPF), working alongside the pension regulator, that would have handed over a share of the company in return for taking on responsibility for the pension fund and its shortfall.
The PPF said it failed to meet its criteria for such a bailout. That's when Dawson International issued a statement, expressing its frustration at the PPF.
It warned that administration had therefore to be considered, but that the business ought to be able to find a buyer.
And with the suspension of share trading this week, that's now where Dawson stands.
Having twice talked up the prospect of administration, it's hard to see how it can now be avoided. But the hint was clear that a pre-pack deal could be done, to move the assets on and keep trading.
The curious bit for the PPF is that it gets to take on the liability anyway, funded by the levy on other pension schemes it covers.
If Dawson is put in administration, the pension fund is required to continue paying current retirees, and 90% of what would be owed to those who are yet to retire.