RMJM architecture firm 'returning to profit'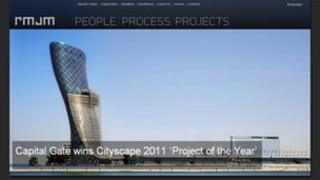 The RMJM architecture practice has claimed orders in its Middle East and Asian studios are helping it back into profit.
The Edinburgh-based firm has run into significant financial problems in recent years.
The company, with 18 international subsidiaries, reported a loss over the year to April 20 of last year of £9.3m.
It now says the year to April 2012 was again showing profit. In the previous year, 2009-10, it made £3.1m profit.
However, the firm was hit by sharp falls in revenue in Europe, the US and Middle East, while only Asia has seen growth. In total revenue fell nearly £10m to £72m.
'Significant uncertainty'
Auditors for the firm highlighted concern about more than £5m in the accounts, saying there is "significant uncertainty" that it can be agreed and collected.
The company, which won notoriety over its role in the Scottish Parliament building project, also suffered unwelcome criticism in recent years for staff going unpaid.
Sir Fraser Morrison, the former boss of Morrison Construction who is now RMJM chairman, bought out the debt owed to Bank of Scotland by RMJM in April this year.
In his statement with the 2010-11 accounts, he claims the subsequent year, to April 2012, has put the firm back into operating profit.
The annual accounts, lodged with Companies House, say that RMJM directors found the year to April 2011 to be "extremely difficult" for the architecture and engineering sector.
However, they list projects that are now getting back on track, including the Gazprom tower in St Petersburg, headquarters for the Russian energy giant, which will be the tallest in Europe.
It is also working on £1.3bn casino project in the Bahamas, which was put on hold during the recession. There has been work on designing more than half the stations on a new metro circle line in Singapore.
Staffing levels
There are also projects in Abu Dhabi, tower blocks in Istanbul, and although contracts in the European and US markets continue to be weak, there is some education work, as well as the Commonwealth Games Village in Glasgow.
Sir Fraser said: "Difficult times required difficult decisions, particularly where they involve people and we are very conscious that the changes we have made have not been without significant pain."
The annual accounts show a drop in staffing levels by 100 to 840. One of those understood to have left a consultancy role with the company is Fred Goodwin, the notorious former chief executive of Royal Bank of Scotland, who was hired to help develop international work.
Sir Fraser added: "In the three years since 2008, there has been little change in the market across US and Europe. The Middle East is beginning to show signs of recovery and momentum has built in Asia.
"Overall, the market for architecture services is improving but has not recovered to its pre-recession levels."