Hello! OK! More! (Or less)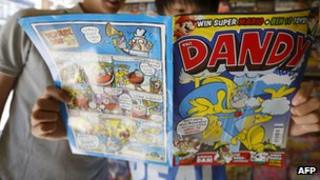 At £1.50, The Dandy, featuring Desperate Dan, eats a cow-pie-sized chunk of the weekly pocket money, which helps explain why the average copy sold fewer than 7,500 last year.
Still, the most recent edition includes news on JLS, Dan finds his partner for Strictly Come Dancing, who appears to be bovine, and there's the following rib-tickler: 'What did Robin Hood say when he nearly got hit in the archery contest?' Answer: 'That was a narrow escape'.
So it's not as if it's pocket money entirely wasted.
But having fallen from circulation that peaked above 2 million back in 1950, the country's longest-running children's comic is printing its last in December, as it turns 75.
The future is online, say Dundee publishers DC Thomson. And you can get an app that will help you count down the 109 days to the characters getting a new lease of life. Rather like the News of the World, the print edition is set to go out with a flourish.
The Beano, meantime, is in better shape, with circulation above 38,000 last year. Unlike The Dandy, it hasn't been withdrawn from the industry body, Audit Bureau of Circulation, but the figures are now going annual, so we have to wait six months to find out how it's getting on.
Volatile
The ABC six-monthly figures for the rest of the magazine industry are out today, and show magazines are suffering significantly from the squeeze on optional extra purchases by shoppers. It's not all bad. Out of 255 titles included, 31% are seeing circulation on the rise.
Of those, most are very modest rises. On the current affairs magazine rack, The Economist, Private Eye, The Week, the Spectator and the Oldie are notable for holding more or less steady, helped by large subscription bases. But many of those in the falling category are really falling.
Readers' Digest has relied on that same subscription base, but bought out of administration by Vivat, it's down 35% on last year, with circulation of 285,000.
Some of this goes with fads. Magazine circulation is naturally much more volatile than newspapers.
The big risers for young people include learning titles featuring Peppa Pig, and even moreso the Moshi Monster Magazine, selling 223,000 from nowhere last year, and number 36 selling magazine in the country.
New Musical Express (down 18% to 24,000) and 'Q' are falling out of favour with cool music fans, while Properganda is on the rise, with sales sharply up to 76,000.
Cover girls
The most conspicuous losers are in women's magazines. Some established names are in decline, including Company, down 21% in the past year to 143,000, and Grazia, down 14% to 183,000. In the week of Helen Gurley Brown's death, it's worth noting that her creation, Cosmopolitan, is down 9% to 353,000.
Health, beauty and hair are not doing so well, while 'home interests' and parenting are holding up.
The women's weekly category has taken an 11% dip in a year, and (apart from TV listings, which together sell 3.5m per week) that's where many of the big numbers are.
Titles with exclamation marks seem to be suffering badly! New! isn't looking that fresh, down by 15% to 439,000. OK! magazine is far from OK, down by 25% on last year, to 356,000. Hello! isn't yet saying goodbye, but it's down 15% on the year to 353,000.
Fewer are picking up Pick Me Up, down by 19%, with a similar decline as people fall out of love with Love it! And More! deserves to be renamed Less! It's down 36%.
The big riser for women may tell you something about these austere times. Slimming World is up by 11% on June 2011.
Simplicity
Men are cutting back by rather less, with the men's lifestyle segment down only 1%. Both FHM and Nuts are down more than 20% on last year. In motoring, BBC Top Gear magazine has been a conspicuous loser in the most recent figures.
And for Scotland, the most striking aspect of the six-monthly ABC figures is how few titles there are. Homes and Interiors Scotland is the only title aimed solely at a Scottish market, selling just over 10,000. Figures for Scottish Field and Scots Magazine haven't been filed for these results.
DC Thomson, the only significant magazine publisher north of the Border, may be closing down The Dandy. But its splendidly old-fashioned titles, My Weekly and People's Friend, are in gentle decline of less than 3% on the year.
Of course, the churn of magazine titles means new ones are being created regularly. One new publication that caught my eye this week is called The Simple Things, "a new monthly multi-media lifestyle brand" aimed at people who want to live frugally, seeking out bargains, and making do by mending.
As a publishing venture, it doesn't sound like the most attractive platform to attract advertisers. But as a similar American publication can shift 80,000 per week, why not here too? And it's sure to get passed around.