Sharp fall in Scots shoppers over summer months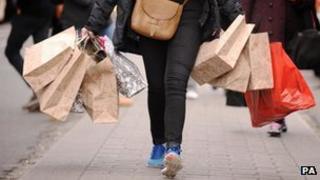 The number of Scots going shopping has fallen, down 8% cent on last summer.
The drop, across May, June and July, is much steeper than the UK decline in footfall, which is down just over 2%.
However, the Scottish Retail Consortium (SRC) reports there is a lower vacancy rate among shop units in Scotland, compared with the rest of Britain.
It stood last month at 10.5% of town centre shops. Northern Ireland, Wales and the north of England had significantly higher vacancies.
On the footfall measure, only Greater London reported a sharper decline, down by 9%. It rose in Northern Ireland and Wales.
SRC economist Richard Lim said: "Apart from a Christmas boost, footfall has now been down in Scotland for 12 months in a row.
"Our Scottish Retail Sales Monitor confirms that cutting back is becoming more widespread as this period of falling disposable incomes stretches out.
"Only when confidence returns will we see more customers out and retailers taking on some of those unused shops.
"These figures don't suggest that turning point is imminent."
The Scottish figures do not differentiate between the different locations for footfall, but the UK figures show the effect was being felt across the high street, down by 5.5%, as well as out-of-town, down 1.2%, and less so in shopping centres.