Murray International Trust warns of tough times ahead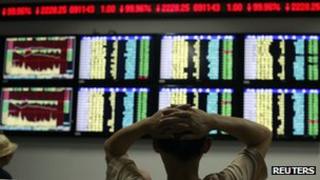 A Scottish investment trust has given a gloomy assessment of the global economy's prospects.
Murray International Trust warned the absence of growth could mean periods of recession and stagnant labour markets "for the foreseeable future".
It said securing positive financial returns could prove difficult in the short term.
The warning came as the trust reported it outperformed its benchmark index in the first half of the year.
It posted a net asset value total return of 6.1%, compared with a return of 4.2% on its benchmark.
In a stock market announcement, the trust - which is run by Aberdeen Asset Management - said financial markets were exposed to "extremely harsh investment conditions" during the period.
'Deteriorating sentiment'
It argued the financial landscape had been dominated by "deteriorating sentiment towards sovereign-deficit funding in the debt-laden developed world".
Murray added: "Given the enormous weight of monetary stimulus pumped into the global financial system, the lack of economic traction remains of great concern.
"In the absence of growth, where this leaves the very heavily indebted, mature, consumption-based economies of the United States, the UK, Europe and Japan, remains the defining issue of the day, even perhaps of the decade.
"This suggests low growth, periods of recession, stagnant labour markets plus contracting overall incomes and living standards for the foreseeable future.
"Against this backdrop, securing positive financial returns could prove difficult near term."
It added: "However, widespread portfolio diversification throughout the world continues to give exposure to attractive long-term investment opportunities in solid, high-quality companies with a proven track record of delivering returns regardless of prevailing economic circumstances."