Remploy staff to stage four-day strike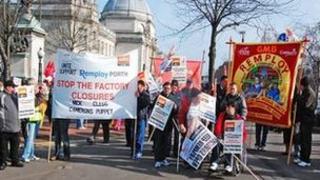 Disabled workers at Remploy sites in Glasgow and Chesterfield in Derbyshire are to stage a four-day strike over the threat of job losses.
Members of the GMB and Unite unions will walk out from 28 August.
It follows a series of UK-wide strikes by disabled workers in protest at government moves to close Remploy factories.
The GMB said nearly half of Remploy's 54 factories in the UK have already been shut down.
Another 18 will close or be sold next year, with the remainder facing an uncertain future.
The UK government plans to switch spending to help individual workers find jobs in mainstream sectors.
Union officials accused the Department for Work and Pensions (DWP) of removing the obligation for a new employer to provide a pension, and warned that potential buyers may want to make redundancies based on an individual's disability.
A DWP spokesman said: "We're disappointed that the unions are taking more strike action which will do nothing to secure the future jobs of Remploy staff.
"The government would encourage the trade unions to fully engage with Remploy during the current process to provide the best possible support and success for disabled staff who may leave the company."