PKF survey: Scottish hotels outperform rest of UK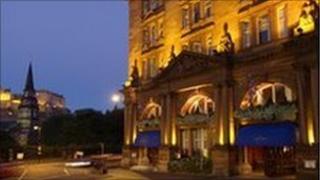 Scottish hotels performed better in June than the rest of the UK, according to a new report by accountants PKF.
The firm's monthly hotel survey found occupancy rates in Scotland fell by 1.4%.
But this was considerably better than other areas of the country, where occupancy dropped at a faster rate.
The survey also indicated that Scotland was the only part of the UK where rooms yield - the industry measure of revenue - increased.
Aberdeen continued to outperform the rest of Scotland with an increase in occupancy of 2% and a 6.7% rise in revenue.
Hotels in Glasgow saw occupancy rise by 1.4% but rooms yield decline by 4.7%.
Edinburgh saw both occupancy and revenue fall by 2.5% and 1.5%, respectively.
'Welcome news'
Alastair Rae, from PKF, said overall revenue figures would be welcome news for Scotland's hoteliers who had had a difficult few months since Easter.
He continued: "However, when you examine the performances of the main Scottish centres the results are less positive.
"In Aberdeen the sector continues to experience the now established higher occupancy and rooms yield.
"But the figures for Edinburgh and Glasgow show declining revenue. Edinburgh has been consistently below last year's revenue figures and Glasgow has now dipped below a £50 average."
Mr Rae said there were a number of challenges facing consumer-focused sectors this year.
He added: "Foremost is probably the weather, but also the depressed economy, and continuing financial uncertainty.
"Hospitality, along with retail, is affected by consumer moods and the current feeling is pretty depressed."