Builders say Scottish public tender process 'a lottery'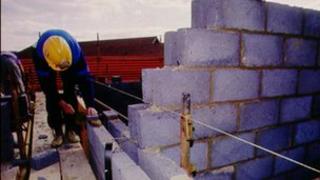 Scotland's public procurement process has become a "lottery", according to construction industry leaders.
A Scottish Building Federation (SBF) survey suggested firms were spending "huge sums" on unsuccessful bids.
It found that companies which completed tender pre-qualification questionnaires had a one-in-36 chance of securing new work.
The findings come as Scottish ministers prepare to draw up public procurement reforms.
The SBF's latest quarterly survey of construction employers suggested nearly two-thirds of small firms had opted out of public tenders over the past three years because of prohibitively high costs.
Shortlists
The survey also found an average of three out of every four pre-qualification questionnaires completed by firms for tenders failed to secure them a place on the shortlist.
Even when shortlisted, an average of seven out of every eight submissions was unsuccessful.
The quarterly survey measures general confidence within the industry by asking participants how confident they feel about the outlook for their business.
The latest report indicated more than two-thirds of all respondents were now less confident about their business prospects in the year ahead compared to the preceding 12 months.
Commenting on the survey results, SBF chief executive Michael Levack said: "This latest survey shows what a lottery the current public procurement process has become.
"I've heard employers representing businesses of all sizes argue they would have better odds of generating revenue by placing bets at the roulette wheel than tendering for public contracts.
"The root and branch reform of construction procurement the Scottish government has promised is clearly long overdue."
Standardised procurement
Earlier this year, Infrastructure Secretary Alex Neil outlined his intention to reform public procurement to improve Scottish businesses' access to contract opportunities.
Commenting on the latest survey a Scottish government spokesperson said: "The Scottish government has achieved much already to improve the way the procurement system operates in Scotland and to reduce barriers faced by small and medium enterprise (SMEs) in bidding for public contracts - including streamlining procurement processes, promoting prompt payment through the supply chain, and establishing the Public Contracts Scotland (PCS) portal.
"PCS not only provides free, easy access to contracts and opportunities, but also allows for sub-contracts to be advertised - as pioneered through the Forth Road Crossing and Gartcosh Crime Campus contracts."
The spokesman said that in 2011 more than 45% of the annual procurement spend by the Scottish public sector went to SMEs, but said there was "room for improvement".
He added: "We are currently consulting on the forthcoming Sustainable Procurement Bill, which will seek to ensure that all public bodies in Scotland adopt transparent, streamlined and standardised procurement processes that are friendly to Scottish businesses."