To Beeb or not to Beeb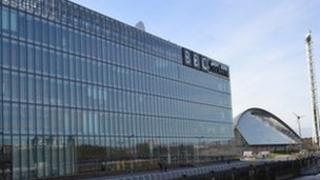 So far, it's been a week when a Murdoch (Elisabeth) dared to praise the BBC and its licence fee.
A fictional Rochdale secondary, Waterloo Road, was reincarnated in Greenock, under the BBC Scotland curriculum - just in time to avoid the first decline in GCSE results for 23 years.
That exam result story led the BBC national news from London, but of course, it had no relevance to Britain's northerly nation.
Meanwhile, STV said its ad sales are continuing to fall, while it looks to rising digital revenue and announced a BBC2 network commission for a celebrity cookery show.
Risk of navel-gazing
It's in that media environment that Scotland's First Minister has begun to set out his stall for broadcasting in an independent Scotland.
Much of his audience, at the Edinburgh International Television Festival, looked and sounded like a slice of north London, so he was introducing some of them to the concept that the world looks different from outside the metropolis.
Citing Borgen and The Killing, top rated drama from Danish TV, he was making the case for small countries, also including Norway and Ireland, having their own vibrant broadcasting sector, mixing public and private, and keeping more production spend close to home.
And he made it clearer than he's done before - "utterly clear, utterly unsurprising" - that an independent Scotland should have its own "national public service broadcaster".
This, he argues, should be "based on the existing staff and assets of BBC Scotland".
Impartiality
Also clearer than before, there's a guarantee of the independence of broadcasters, and a requirement would be put in place of broadcasters' impartiality - apparently a continuation of the BBC tradition based on the Scot who was founding director-general, Lord Reith.
Previously, he has called - as he did again at the TV festival - for Scotland within the UK to have powers over broadcasting, and to have its own digital channel.
A blueprint for that, costed at £75m per year, was drawn up by the Scottish Broadcasting Commission, set up by Salmond and headed by Blair Jenkins, the ex-BBC Scotland head of news who is now director of the pro-independence referendum campaign.
The other themes to which the first minister returned included his support for Gaelic broadcasting, underlining how it's built audience.
And he had praise for ground made up in Scotland's deficit on BBC programme-making spend, up from 3.5% in 2006 to 9% last year (now ahead of population share).
BBC paradox
Compared with the call for a digital channel within enhanced devolution powers, independence is very different terrain.
Whereas Norway, Denmark and Ireland have built up their sectors while independent countries, they didn't start with something of the scale and reach of the BBC.
Along with sterling, the British Broadcasting Corporation is probably the most pervasive reminder of Britishness in Scottish daily life.
The paradox is that, from its national radio station to culture programming, there's probably no organisation that has done more for Scottish national identity.
North Eastenders
So far, most of the Nationalist traffic on this has been an attempt to find out what the BBC's corporate position would be if Scotland became independent.
The answer from director-general Mark Thompson: "We do not want to get involved in any scenario planning or anything which might colour our role as an independent platform where authoritative impartial journalism and debate can take place which all Scots, whatever their views, can trust in".
So, without any guidance from west London or Pacific Quay, it's up to the SNP to figure out how it carves Scotland out of the BBC without losing the elements that viewers and listeners value.
While Alex Salmond was big on the impact of more programme-making spend, including fiscal incentives under the powers he wants to see move to Holyrood, it's on funding and content that his speech left us waiting for further announcements next year.
All he said on that, in response to questions, was that popular programmes would continue to be available to Scots (Eastenders included), though some programmes (unspecified) would not.
Media navel-gazing
Does this matter beyond those of us whose salaries depend on the outcome, and who might be accused of navel-gazing?
You can bet on it. Alex Salmond said broadcasting is "in the thick of" his top priorities for independence.
One of few publications to tackle the issue so far has been the Big Issue. (Its headline, To Beeb or not to Beeb, was too good not to plagiarise. Credit and respect where it's due.)
Pete Wishart, the Perth and North Perthshire MP, one Nationalist who has tackled the issue, told the magazine: "Broadcasting is enormously important. That's something we've discovered on the doorstep as we have been talking to the people of Scotland about independence."
What he didn't spell out is what these doorstep people have been saying: would a split of the BBC be seen as a good or a bad thing?
Hand-knitted news
Wishart says he wants to see "content much more in line with what the Scottish viewer would like to see", reflecting "the reality of living in Scotland". Easy to assert. Getting a consensus on what that means looks less so.
Are people demanding that River City replaces Eastenders in prime-time? Do they agree with MSP Joan McAlpine when she looks to an independent Scotland's broadcaster on which "our news would no longer look hand-knitted compared with well-funded UK offerings".
If it's to the contrary, and affection for the BBC's offerings from Attenborough to Strictly Come Dancing run deep, or that its journalism might be trusted ahead of others, then Nationalists have to tread carefully.
It's all very well to offer programming relevant to Scotland, but at what cost, and what would Scots do without? STV got an answer the hard way when it denied Scottish viewers that most English of period dramas, Downton Abbey. It had to change its mind.
BBC family
Also, what happens to the licence fee? The first minister said it would be applied to Scottish broadcasting, but its future level would be up for discussion. Others are asking if it's a sustainable funding model within Britain. Alex Salmond didn't rule out advertising appearing on a Scottish channel, as it does on other state- or tax-backed channels elsewhere.
The details next year will also have to spell out how closely the SBC might co-operate with its former colleagues in London and Salford, in what has been called an "associate" relationship.
While including much of the drama, entertainment, factual and educational programming that sells around the world, the SBC could perhaps co-operate on news and current affairs, if an agreement could be reached.
The Big Issue cited talk of a looser "BBC family" arrangement, in which Pacific Quay bosses have autonomy and have to find a new set of working arrangements with colleagues in London and Salford. Yet a lot of that would surely come down to control of budgets, more than high-level constitutional arrangements or assertion of "social union".
And there's no doubt which side of the Border would have the bigger budgets.
What, though, of the other side of the constitutional debate? Do those who argue for 'better together' have anything to say about the future of Scottish broadcasting, of the licence fee, and of the BBC? Would they include broadcasting regulation in a package of enhanced "devo max" or "devo plus" powers?
If it's really one of the big issues Pete Wishart's finding on those doorsteps, then perhaps it's one of those issues on which the pro-union side needs to take a stand.
Scottish Six
This debate about Scotland's constitution and broadcasting has a habit of being overtaken by technology. There was much discussion in the late 1990s about the way in which the BBC covers the 6 to 7pm news hour on BBC1, and whether Scotland should integrate world and UK news into a "Scottish Six" programme at that time.
The Scottish Broadcasting Commission showed how that question has been superseded by the spread of digital channels, with the audience fracturing into niches, offering new opportunities for much more than an hour of news.
One of the big issues at this year's TV festival in Edinburgh is the effect of on-demand content, undermining any conventional notion of programme scheduling.
By the time of the independence referendum, the media landscape will surely have continued its radical transformation. Don't be surprised if the political debate is struggling to keep up.
*Contribute to the debate on Twitter @BBCDouglsFraser