Oil firm Cairn Energy to explore new lands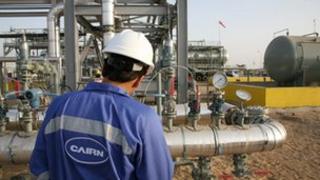 Edinburgh exploration company Cairn Energy has announced plans to hunt for oil and gas in new areas in Morocco and in the Mediterranean.
The move is part of the firm's strategy to balance its exploration portfolio after failing to find commercial reserves off Greenland.
However, Cairn said Greenland was "absolutely" still a priority.
The group cut its pre-tax losses for the first six months of this year from $141m (£89m) to $50m (£31m).
On continuing operations, the company made a profit of $37m (£23m).
A 50% stake in an exploration well in Morocco is costing Cairn $60m (£38m). It will share the licence with the smaller explorers San Leon Energy, Serica Energy and Longreach Oil and Gas.
Drilling is planned in Morocco in the second half of 2013.
New frontiers
The Moroccan acquisition comes after two others in the North Sea and is part of the group's strategy to seek new frontiers.
Cairn's chief executive Simon Thomson said the company was interested in "things that haven't been explored before".
He said: "Spain is a very good example, as is Morocco, but also Cyprus - which is also effectively undrilled."
Speaking on BBC Radio Scotland, he described the North Sea as a "key part" of Cairn's portfolio and said advances in technology were making it possible to access areas which had not previously been explored.
Cairn has spent the last two years with much of its focus on Greenland. Although it has failed to find any commercially viable deposits of oil there, the company said it was still committed to the region.
Earlier this year Cairn announced a partnership in one of its exploration licences with Statoil and said it was "progressing well there".
Mr Thomson added: "We are interpreting our 3D seismic survey, which actually looks very encouraging, so we're preparing for drilling in the future."
Cairn revealed it had returned $4.5bn (£2.85m) to investors over the past five years and said now that the capital base of the company had shrunk, it was "appropriate" to seek the right partners.
"We're still exposed to the upside but we share the capital risk," said Mr Thomson.