Heathrow third runway 'would help Scottish business'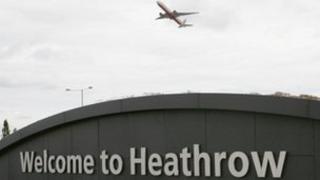 A third runway at Heathrow would benefit Scottish business, the Scottish Chambers of Commerce (SCC) has said.
On Tuesday, the UK government said it remained opposed to another runway, despite calls from Conservative MPs for a change of heart.
But SCC said the move could potentially reverse a decline in Scottish connectivity to Heathrow.
It also claimed that a third runway would provide an opportunity for extra routes for Scotland.
Talking on BBC Radio Scotland's Good Morning Scotland, SCC head of policy Garry Clark said Scotland relied on air transport in order to connect both domestically and internationally.
"Heathrow is extremely important in that regard, particularly in terms of its hub connections to international destinations," he said.
"In terms of the third runway, the immediate benefit for Scotland could be potentially a reversal of the decline in connectivity to Heathrow that we have seen over the past few years.
Routes 'lost'
"We have lost routes from Inverness airport to Heathrow. We have got less routes now from Glasgow, Edinburgh and Aberdeen. That is the trend that we need to reverse.
"A third runway at Heathrow would deliver extra capacity and give us the opportunity to secure extra routes for Scotland."
Mr Clark said more direct international flights from Scotland were needed but Heathrow still played a key role.
"We do need to see more direct flights from Scotland but we are never going to be able to serve all the destinations that you can get from a national hub airport," he said.
"There are not the number of passengers going from Scotland to those major destinations, such as China and South America, that we would need.
"These have to be provided through the hub airport. That, in most cases, is going to be Heathrow."
In a separate development, SNP MSP Chic Brodie called for the UK government to support more direct flights to and from Scottish airports.
'Under pressure'
Mr Brodie, a member of the economy, energy and tourism committee, said: "With Heathrow running at 94% capacity, and Gatwick and Stansted also under pressure at peak times, the UK government must support airports around the UK attempting to encourage more direct flights to growing economies, such as China.
"In Scotland we have four major airports in Aberdeen, Edinburgh, Glasgow and Prestwick which would all benefit enormously from an increase in direct flights.
"One simple action the UK government must take is to devolve responsibility for the Air Passenger Duty (APD) to the Scottish Parliament."
He added: "The current APD holds back Scottish airports as they are unable to compete with other European countries, while Northern Ireland has been able to benefit from reduced rates of APD."