Marine energy firms share fresh funding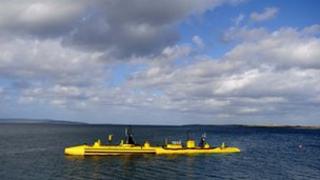 Five marine energy companies have been awarded a share of £7.9m in fresh funding to help develop new wave and tidal prototypes.
The announcement from Deputy First Minister Nicola Sturgeon came as the Scottish cabinet met in Orkney.
It is estimated the international marine energy market could be worth up to £4bn to Scotland's economy by 2020.
Three tidal power and two wave energy developers will share the windfall between them.
This is the second round of "Waters" (Wave and Tidal Energy: Research, Development and Demonstration Support) funding.
Among those receiving a grant are Scotrenewables Tidal Power, which was awarded £1.2m towards a £9.24m project to design, construct and install a two-megawatt floating tidal turbine.
Ms Sturgeon said: "The Scottish government is very pleased to be supporting these five exciting wave and tidal projects through this funding.
"The WATERS 2 funding sends a further clear signal that Scotland - already blessed with some of the world's greatest concentrations of marine energy resource and with unrivalled offshore energy engineering expertise - will continue to provide the optimum research and investment environment for developers and commercial partners."
Scotrenewables Tidal Power business development manager John McGlynn said: "This grant award has played a vital role in allowing us to leverage a very significant amount of foreign private investment into the Highlands and Islands."