Whisky firm BenRiach on Mongolia mission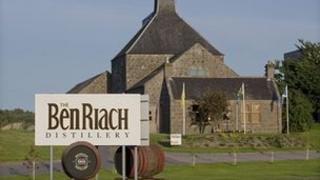 A Scotch whisky firm has set its sights on Mongolia as it bids to make further inroads into new and emerging markets.
BenRiach Distillery Company managing director Bill Walker is to hold tastings in the central Asian country as part of a trade mission next week.
Mr Walker said there were opportunities worldwide for the Scotch whisky industry, which had entered "a golden age".
He added that "east of Beirut, the world is booming".
Mr Walker said: "Emerging markets like China and India haven't got anywhere near where they will be yet.
"Mongolia, where I'll be next week, is absolutely in its infancy but there will be opportunities, as there are with places like Kazakhstan and Azerbaijan.
"Add onto that Russia where the rouble has recovered and which is having a boom time just now. South America is clearly enjoying significant economic advantages as well.
"Mexico has become a big big market for Scotch, and you've got untapped Africa waiting in the wings."
'Golden period'
Mr Walker said he believed Scotch whisky's "golden period" would endure for some time to come.
He added: "We don't have the same industry shape that we had in the past; we've had so much consolidation and as a result it appears to me there are no weak players in the industry.
"In my opinion, that forms the fundamentals of a solid future."
Edinburgh-based BenRiach already supplies a range of 12 to 15-year-old single malt whiskies, along with more mature and premium varieties, to markets including western Europe, Asia, North America and, increasingly, Brazil and other Latin American economies.
In 2008, it acquired the Glendronach distillery in Aberdeenshire before launching a five-line bottling plant in Newbridge in 2010.