Easyjet's Edinburgh Airport expansion promises jobs boost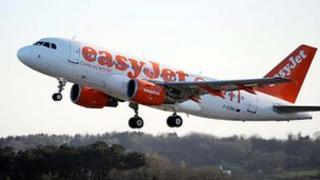 One hundred jobs could be brought to Edinburgh after Easyjet announced plans to base two more aircraft at the capital's airport.
The airline already has five planes based in Edinburgh, flying to 24 destinations, and carrying 2.5 million passengers in the past 12 months.
It has not yet decided where the additional aircraft will fly to.
The choice of destinations will be announced in October after discussions with other agencies.
Hugh Aitken, Easyjet's commercial manager for Scotland, told BBC Radio Scotland: "We are doing something quite unique, we're starting to talk to a lot of our partners, Scottish Enterprise and VisitScotland and others about where they see the opportunities, where they see the markets that are underserved or have potential to grow in and out of Scotland and how they can support us with that."
He hinted that the destinations would be European. "Absolutely, that's our foot print", he said.
Mr Aitken agreed that Edinburgh had great "inbound potential".
He added: "On some of our routes well over 50% of the people are coming in to Scotland - so that's about tourists coming in to Scotland and visiting the country. You can imagine there will be other places with that potential." .
However he explained that the airline would also be looking at outbound destinations "that need new capacity brand new or other areas with potential to grow".
"It's about connecting Scottish businesses and leisure travellers with where they want to go to and flying directly rather than having to go through the hub airports," he said.
Heathrow
At the moment, Easyjet does not fly to or from Heathrow and Mr Aitken claimed there was "a real preoccupation with Heathrow".
Mr Aitken said: "Everybody talks about any loss of capacity at Heathrow being bad for Scotland.
"In our view we fly to London Luton, Stansted, Gatwick which very often if you're doing business in London it's quicker to fly to those airports than it is to fly to Heathrow plus given that Heathrow is over 90% full, when things go wrong they go wrong very badly."
The airline said although it was investing in Edinburgh it was not ignoring Glasgow and had increased capacity there and introduced new routes over the past year.