Pernod Ricard boosted by booming whisky sales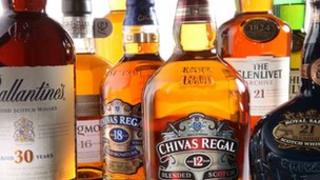 Booming Scotch whisky sales have helped French drinks giant Pernod Ricard record its strongest growth for four years.
Pernod said overall company sales rose by 8% in the last financial year.
Its results were boosted by double-digit growth in some of its leading whisky brands.
Royal Salute sales grew by 23% in value, with The Glenlivet and Chivas recording 19% and 11% rises respectively.
Growth of Chivas was driven by strong performances in Asia, Eastern Europe and South America.
Premium brand Ballantine's recorded stable sales figures, with strong results in Eastern Europe and Latin America countered by a sharp decline in Spain "in a very difficult Scotch category".
Pernod said The Glenlivet performed well in Asia and key mature markets such as the US, Taiwan and the UK.
Overall, Pernod recorded annual sales of more than 8.2 billion euros.
Group chief executive Pierre Pringuet said: "Throughout the 2011-12 financial year, the group recognised its best growth rates since the 2008 crisis, be it for the top or bottom line.
"This is the result of a clear and constant strategy - substantial investments in our brands, innovation, premiumisation and geographic expansion."
Mr Pringuet added that the board was confident in the group's ability to deliver strong growth this year as well, despite global economic uncertainty.
Emerging markets
In May, Pernod-owned Chivas Brothers outlined a £40m investment programme in a bid to meet growing demand for whisky in emerging markets.
The company said it would reopen a mothballed distillery in Banffshire and expand four existing distilleries as part of its plans for the year.
Chivas aims to boost its malt whisky distillation capacity by 25% over the next year with expansions at the Glenallachie, Glentauchers, Tormore and Longmorn distilleries.
Glen Keith is expect to reopen in April 2013, having been mothballed in 2000.