Scottish engineering firms report export orders dip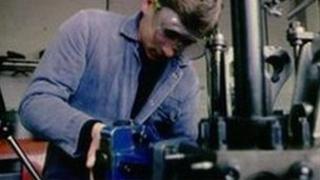 Scottish engineering firms expect export orders to pick up in the next three months despite a recent dip, according to an industry survey.
Scottish Engineering's latest quarterly review suggested overall order intakes dipped slightly, with export orders falling "considerably".
But it also found output and staffing were being maintained thanks to "very good" order intakes in prior quarters.
The industry body said uncertainty over the eurozone was affecting orders.
Despite generally forecasting an improvement in export orders, optimism among firms dropped into negative territory after a sustained period of "extremely positive" quarters.
The review of the manufacturing engineering sector also highlighted a long-running demand for skilled machine operators, welders and graduate engineering positions.
Eurozone 'uncertainty'
Scottish Engineering chief executive Peter Hughes said: "The fact that overall orders are down can be explained by the uncertainty surrounding the eurozone which remains our biggest export market.
"Until we see that situation resolved our engineering companies will find that they are having to work even harder for orders.
"On the subject of staffing levels and the shortages that are being experienced, many of the companies in membership recognise that they have an ageing workforce which will have to be replaced in the short and medium term."
He added: "To that end, virtually all sectors have plans to increase their training investment, which hopefully will alleviate the problem in time."