Oil and gas logistics firm Asco expands in Canada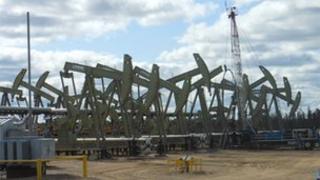 A Scottish oil and gas logistics group has expanded its presence in Canada by buying three oilfield services companies in multi-million pound deals.
The Asco Group said it had acquired Alberta-based EJR Trucking, Manatokan Oilfield Logistics and Docktor Oilfield Transport Corporation.
The acquisitions double Asco's staff numbers in Canada to more than 260.
The Aberdeen-based firm already has operations in Alberta as well as Halifax and St Johns in Eastern Canada.
Asco said the deals would significantly increase its capacity in Canada and support the group's international investment and growth plans.
'Significant step'
Group chief operating officer Derek Smith commented: "Our primary focus will always remain the oil and gas services market, but we want to reach new clients as well as provide more services to our current clients, particularly services which fit and complement our current portfolio.
"The acquisition of these oilfield services companies in Alberta support this strategy.
"They have doubled the size of our operation in Canada, allowing us entry into new markets and they represent a significant step in our growth plans."
EJR Trucking and Docktor Oilfield Transport Corporation are oilfield logistics companies, specialising in drilling logistics and infield services.
The acquisitions were made through Asco's Canadian onshore oilfield services company, Moko, which is based in Alberta.
Manatokan is a specialist oilfield waste management company.
The latest deals, combined with the acquisition of North Sea Lifting in June, have boosted the number of Asco employees worldwide from 1,600 to more than 2,000.