Bathgate firm Eagle Couriers reports soaring sales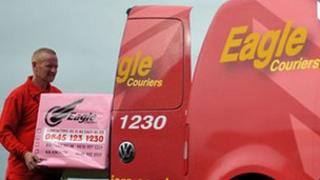 One of Scotland's largest independent courier firms has beaten its £3m sales target for the year after pulling in more clients.
Bathgate-based Eagle Couriers said its client base rose by 20% to about 4,000.
Its results for the year were boosted in part by an increase in public sector work.
Eagle has main offices in Edinburgh, Glasgow and West Lothian, with smaller bases in Aberdeen, Dundee and Inverness.
Director Fiona Deas said: "As well as our client base going up by 20%, we have also won a couple of new contracts which have also allowed us to take on new members of staff.
'Right Direction'
"So far we have taken on 14 new members of staff this year, adding to our current team of 110. Continuous recruitment has been a key sign that the business is going in the right direction."
The firm said it was well on track to reach its target annual turnover of £5m by 2014 after growing its public sector customer base by 40% last year.
Ms Deas added: "Our success within the public sector is definitely down to the value for money element that we bring to all of our services, as well as the fact that we are now one of the only independent courier companies in Scotland."
The firm, which counts BT and Scotland Excel among its clients, plans to add a further 12 vehicles to its 90-strong fleet of vehicles.