Jobs saved at Edinburgh architects RMJM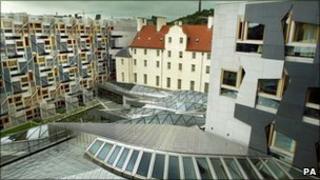 A total of 120 jobs have been saved at international architects RMJM, after the collapse of its UK subsidiaries.
The Edinburgh-based firm, which led the building of the Scottish Parliament, said receivers KPMG were appointed for three UK arms after it concluded they could no longer continue to trade.
Existing contracts and architectural staff were then acquired by a new European division, RMJM Architecture.
The company said the move would not affect the group's operations.
The RMJM Group now comprises RMJM's European division, RMJM Middle East, RMJM US and RMJM Asia.
Blair Nimmo, head of KPMG restructuring in Scotland, said: "The companies' businesses have been very severely impacted by the slowdown in the construction industry as a result of the worldwide recession.
"The sale of the businesses to RMJM Architecture will help facilitate continuation of the companies' current contracts, preserve the employment of some 120 people and achieve the maximum return for the companies' creditors".
'Tremendous resilience'
RMJM chief executive Peter Morrison said: "The RMJM team around the world has shown tremendous resilience and loyalty in extremely challenging circumstances over the last number of years.
"The financial issues the business has faced are a direct impact of a brutal global recession and the well-documented impact of this on the UK construction market.
"This restructuring is designed to support the clients, projects and the staff of RMJM's business in the UK."
In August RMJM - which had 18 international subsidiaries - said the year to April 2012 was showing profit, having reported a loss of £9.3m the previous year.
The firm was hit by sharp falls in revenue in Europe, the US and Middle East, while only Asia saw growth.
Annual accounts lodged with Companies House said that RMJM directors found the year to April 2011 to be "extremely difficult" for the architecture and engineering sector.