Gore-Tex makers open £5m plant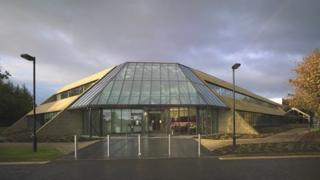 The makers of Gore-Tex are officially opening their upgraded fabrics plant in West Lothian, after a £5m investment.
WL Gore and Associates said the refurbishment reflected the facility's importance to the business as a whole.
A total of 220 staff are based at the plant, which makes protective fabrics for the consumer, military, emergency services and workwear sectors.
Gore has three manufacturing plants in Scotland - one in Dundee and two in Livingston.
The Kirkton Campus building replaces the original facility, which was opened in 1984 by former prime minister Margaret Thatcher.
It has been designed to reduce energy consumption by almost 25%, with heat generated in the production area being recycled throughout the building.
Justin King, manufacturing leader of the plant, said: "The Kirkton Campus facility was ahead of its time when it was built 28 years ago and has played a key role in our European business strategy.
"The teams that work here ensure we make products of the highest quality and are constantly developing new solutions for our customers and end users.
"The investment in the plant reflects its importance to our business and ensures that its legacy of quality and innovation will continue for many years to come."
Enterprise Minister Fergus Ewing said Gore's decision to invest in the plant was testament to the quality and skills of the local workforce.
"For over 30 years, Gore has made a substantial contribution to Scotland's economy and now employs approximately 500 people in research, development and manufacturing roles," he added.