Increased optimism in UK oil and gas companies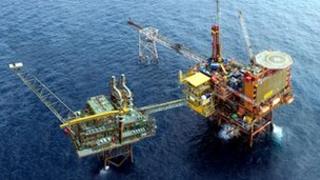 UK oil and gas companies have reported increased levels of optimism in spite of skills shortages and rising costs.
The annual survey from Aberdeen & Grampian Chamber of Commerce (AGCC) has found the sector is outperforming the rest of the Scottish economy.
The industry average wage is twice the national average at £64,000 and recruitment shortages continue.
The report said there were some question marks over the industry.
The AGCC survey said the "continuing political and economic uncertainties and the development of unconventional gas and oil production may change the shape of the international energy market in the medium term".
Skills shortages
Difficulty in recruiting skilled staff continued to affect most companies.
Of the companies surveyed for the report, all operators and 94% of contractors said pay had increased and 40% reported changes to terms and conditions, "mainly to enhance payments linked to retaining staff".
Kenny Paton, oil and gas partner at Bond Pearce which sponsored the survey said: "The potentially very positive future for the industry is clearly illustrated by this survey.
"The big hopes for the future, the decommissioning and fledgling offshore renewables industries, have not yet made too much of an impact and the focus is still firmly on oil and gas activity which seems to have been stimulated by positive fiscal moves."
He added: "As the UK competes globally for investment it is important that issues like skills, salaries and the continuing uncertainty over decommissioning are not allowed to kill the goose which is laying the golden egg."
The shortage in suitably qualified staff is particularly acute in the 35-49 age group and Mr Paton said salaries were soaring as "companies poach expertise from one another to try to plug the considerable gap".
Independence referendum
Meanwhile Robert Collier, chief executive of AGCC said the independence referendum would be considered by companies planning investment in the North Sea.
He said: "Whilst the outlook for 2013 also looks positive the industry will surely keep a weather eye on global demand factors and issues closer to home, including the Scottish independence referendum in 2014, when considering their longer-term plans.
"North Sea oil and gas is a significant topic in the referendum debate and we will see how the policy proposals surrounding it feed through into business planning in the sector in subsequent surveys."