Scottish new car sales hit five-year high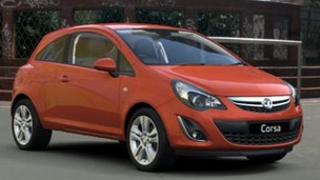 New car sales rose sharply in Scotland last year to reach their highest level since 2007, according to the latest industry figures.
A total of 181,785 new cars were registered north of the border - a rise of almost 9% on the previous year.
The percentage rise was higher than the UK as a whole, which recorded a 5.3% increase to reach 2.04 million.
However, during December, Scottish registrations fell by just over 2%, compared to the same month in 2011.
The figures were released by the Society of Motor Manufacturers and Traders (SMMT).
The Vauxhall Corsa was Scotland's most popular seller, with 11,745 vehicles registered, followed by the Ford Fiesta (10,226) and the Vauxhall Astra (7,195).
The Ford Fiesta was the bestselling car in England, beating the Vauxhall Corsa into second place.
Scottish Motor Trade Association chief executive Douglas Robertson said: "We look forward to the market remaining settled in 2013 with hope, perhaps, of a small percentage rise in volume in the second half of the year."