Turnover falls at Dawnfresh Seafoods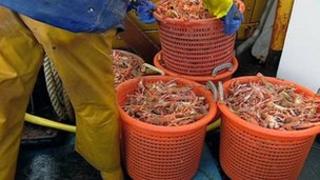 Seafood firm Dawnfresh has reported a 21% fall in turnover to £38.2m for the year to the end of March 2012.
However, the Uddingston-based company cut its pre-tax losses from £6.9m to £4.5m.
Dawnfresh, which processes and packages frozen and fresh fish and seafood to supermarkets, said its margins had been boosted by trout price increases and cost cutting.
The group described its trading year as "extremely challenging".
It said factors such as rising costs and an "extremely competitive retail market" had affected trading.
Dawnfresh, which supplies Arbroath Smokies to supermarkets, said it was "financially secure".
During the year, shareholders pumped more money into the company which it said enabled it to continue its capital investment programme.
The group reported that it spent £1.9m, mainly on two recently acquired trout farms to improve standards.
Oveer the year the company cut staff numbers from 641 to 506.