Speyside distillery Benromach to open new bottling line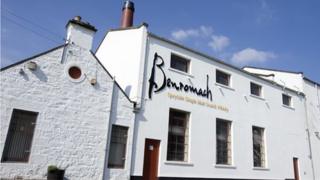 A whisky firm is to build a new bottling line for its Speyside distillery this year, following a surge in sales.
Benromach owners Gordon and MacPhail are investing £540,000 in building works and a new line for the Forres-based distillery.
It will be able to handle up to 3,000 bottles of Benromach per hour.
Benromach's overall sales soared by 40% in 2012, with strong growth recorded in China, Sweden, the US and France.
Sales in the UK increased by 13% during the year.
Gordon and MacPhail managing director Michael Urquhart said: "As the smallest distillery in Speyside, Benromach is punching above its weight in terms of sales growth.
"Benromach's single malts are becoming increasingly popular with people who want a whisky with a distinctive traditional Speyside style.
"We worked very hard to promote ourselves throughout the UK this year, resulting in a 13% increase in sales."