Ernst & Young: Rise in company profit warnings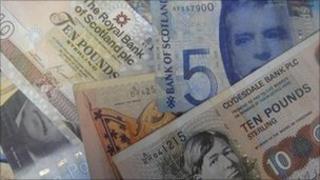 Scotland's quoted companies last year issued their highest number of profit warnings since the height of the financial crisis, according to research from Ernst & Young.
The global accountancy firm said there had been 16 warnings in Scotland.
That was 10 more than 2011 and the most since 2008, which had 21 warnings.
Ernst & Young said mounting risks in the eurozone and the US, along with slowing growth in China and reduced demand, had hit business confidence.
Support services and technology, hardware and equipment companies issued the greatest number of warnings in Scotland during 2012, with three each, followed by construction and materials businesses and software and computer services firms.
The trend in Scotland was mirrored across the whole of the UK, with 86 profit warnings being issued between October and December - a 26% increase on the previous quarter - taking the total for 2012 to 287.
'Escalating risks'
Colin Dempster, head of restructuring at Ernst & Young in Scotland, said profit expectations dropped sharply last year in line with economic forecasts, while escalating risks in key global economies unnerved businesses.
"According to our own Scottish Item Club, Scotland's economy shrank for the third time in five years during 2012 and is staring at a low-growth landscape as we progress through 2013," he said.
"There is no doubt that Scottish businesses are finding it tough out there. The recent retail failures highlight a lack of consumer confidence that is reflected by many corporates.
"Directors typically entered 2013 expecting another challenging year and a prolonged spell of widespread cold, snow and ice is the last thing most businesses wanted to see."
Mr Dempster predicted that, barring further economic shocks, profit warnings would fall in 2013 because 11th-hour fiscal deals in the eurozone and the US had reduced the immediate threat to global markets.
However, he argued that the year ahead would prove to be a testing time for listed businesses.
"Some companies continue to be outpaced by changes to technology and patterns of demand, especially mature companies with weighty pension, debt and real estate legacies," he added.
"Flexible and dynamic operating structures are a vital component of success."