Scottish Friendly reports leap in sales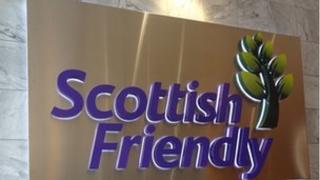 New online products have helped drive up sales for Scotland's largest mutual society, Scottish Friendly.
The financial services group's sales of core life and pensions products rose 35% last year to £8.5m.
It said the growth was achieved despite the "challenging economic climate" and a depressed market for savings and investment products across the sector.
Scottish Friendly added that new flexible online products introduced in 2011 continued to grow in popularity.
Sales and marketing director Neil Lovatt said: "This has been yet another strong year for sales at the Scottish Friendly group as we have continued to reap the benefits of our growing e-business and partnership distribution.
Sign of flexibility
"In December, building on our experience in the wrap platform market, we launched a new more flexible approach to ISA investment that really brings the world of stocks and shares ISAs to everyone - not just the wealthy and well-advised."
Glasgow-based Scottish Friendly secured two major new partnerships in 2012 as the group diversified into the life cover and critical illness market following the sale of its wrap administration business to Citi at the end of 2011.
These new life partnerships were Beagle Street, which is part of the group behind comparethemarket.com, and Neilson Financial Services, part of Australia's Hollard Life.
The group also developed its existing partnership with Golden Charter, helping to supply insurance policies to back the provider's funeral plans.
"In the current difficult economic environment, these results are a tangible sign of the benefit of the flexibility afforded by the Scottish Friendly group and the strength of our diversify and grow strategy," added Mr Lovatt.