Minoan Air to launch new Edinburgh to Oxford service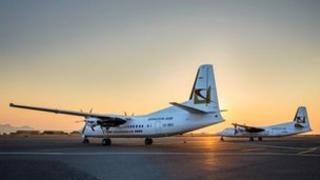 Regional carrier Minoan Air has announced plans to launch a new service between Edinburgh and Oxford.
The twice-daily flights will operate between the Scottish capital and London Oxford Airport from 4 March.
They will run on Mondays, Tuesdays and Thursdays until May, when the frequency will be increased to twice-daily on weekdays and once on Sundays.
Minoan said Fokker 50 aircraft would fly the route, as well as a new regular service between Dublin and Oxford.
London Oxford Airport managing director Andi Pargeter said: "Minoan flights to Edinburgh will take an hour-and-a-half, making a day return to Scotland a practical choice.
"The two cities have a lot of synergy, but rail journeys between Oxford and Edinburgh can typically take six hours or more.
"With rail fares between the two cities averaging more than £200, the direct flights will definitely appeal to business passengers who have previously had to factor an overnight stay into their visits."
London Oxford changed its name from Oxford Airport in 2009 in the hope the rebranding would raise its international profile.
The airport in Kidlington, Oxfordshire, is about 60 miles away from the capital.